Perhaps no award at the Grammys has grown as dubious as Best New Artist. If you've followed the Grammys, even as an outside observer, you would see that the qualifications for the award can be confusing. For example, Chance the Rapper won the honor in 2017, but his debut mixtape 10 Day was released back in 2012. He actually deserved the award, even if the academy was about five years late, but what about some of the other winners?
I certainly don't want to diminish any artist's career, because their journey to musical success probably had several obstacles and fame isn't easy. However, there are some years where, even without the benefit of hindsight, the award should have found its way to another singer or group. I wouldn't label these as the worst artists to win the award, because that's a bit too harsh, so let's call them the most questionable victors.
10.) 1992 – Marc Cohn
There's nothing personal against Marc Cohn. "Walking in Memphis" is a truly great song, and among the best one-hit wonders of the '90s. Of course, it's difficult to view this exercise through the prism of what artists did after winning Best New Artist — voters didn't know at the time that Cohn would never match the success of his self-titled debut. (He did survive a gunshot wound to the head, which alone makes me feel a bit insensitive for even including him, but alas.) That being said, "Walking in Memphis" is the clear standout. If I had my druthers, Boyz II Men probably would have won the award after the release of their debut, Cooleyhighharmony. C+C Music Factory, Seal and Color Me Badd are worthy competitors, but I think that, even at the time, Boyz II Men look poised for greater success.
9.) 2005 – Maroon 5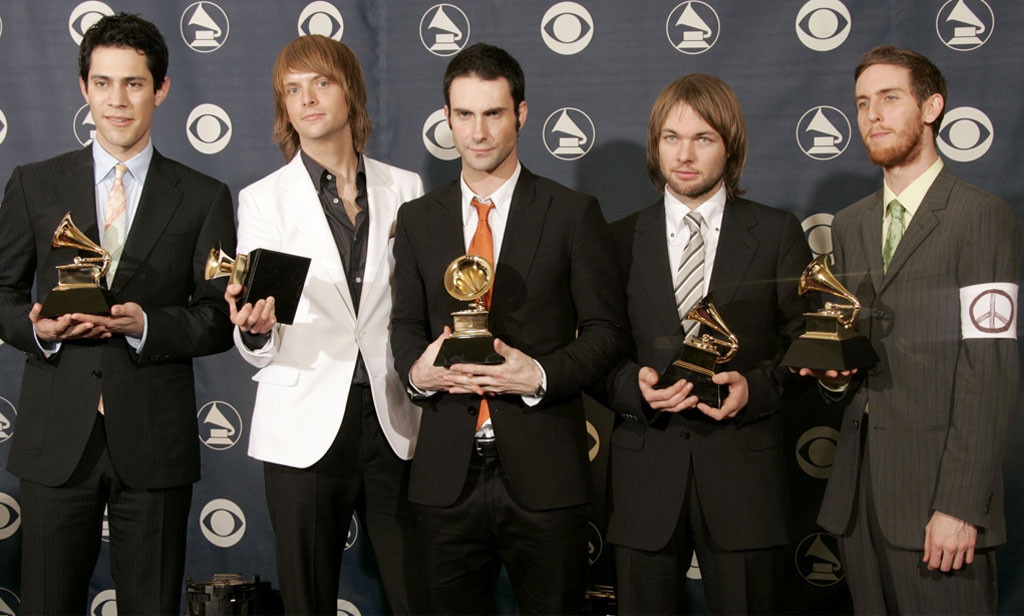 Have these people even heard of Kanye West? I won't lie, this is one example of where some personal animus may have leaked into the selection process. I'm confident that Maroon 5 received this award in exchange for their edge and charm. Maroon 5's debut album was released in 2002 — which is well before their selection for this honor — but it remains by far their best. Oh, and it's their debut if you don't count the three records released under the name Kara's Flowers in the 1990s.
I can't exactly hold that against them, though. Firstly, this category has become known for nominating artists well into their careers. Just look at Kanye West. He already had a couple of mixtapes out before the release of his first record, The College Dropout. Songs About Jane represents Maroon 5's best work before the group became just another pop act, unspectacular in almost every way. It's just that, if Songs About Jane sent a small ripple through the music world, The College Dropout was seismic. It heralded the emergence of West, and is widely considered one of the best albums of the decade. Just off of that alone, West should have walked off the stage with the award this year. No offense to Los Lonely Boys, Joss Stone or Gretchen Wilson.
8.) 1978 – Debby Boone
This year makes the list more so because the field was so weak overall, and there are some painful exclusions. Debby Boone claimed the award, amid a three-year stretch during which the gramophone would lose most of its credibility (don't worry, we'll get to the other two.)
Stephen Bishop, Shaun Cassidy, Foreigner and Andy Gibb made up the rest of the field, and it's shocking that Gibb didn't take it home considering the then-19-year-old's meteoric rise. He would go on to have 1978's song of the year, according to Billboard, with "Shadow Dancing."
Foreigner probably would have been my pick among the field, considering their self-titled debut led off with two instant classics, "Feels Like the First Time" and "Cold as Ice." The former peaked at No. 4 in June 1977, while the latter topped out at No. 6 in October.
What's most shocking about 1977 is who was left off the ballot, for whatever reason. As my friend, The Young Folks music editor Ryan Gibbs, pointed out, The Talking Heads were not up for the award after debuting with Talking Heads: '77. While the album didn't make its way to American shores until two years later, The Clash also dropped its self-titled record. Any of those three groups would have been vastly superior alternatives — no pun intended — to what we got.
7.) 1998 – Paula Cole
Paula Cole was two albums deep into her career, with her latest This Fire dropping in 1996, but two singles in 1997 propelled her to this victory. "Where Have All the Cowboys Gone?" was the bigger hit — peaking higher on the Hot 100 at No. 8 and reaching the top 15 in both Canada and the United Kingdom — but "I Don't Want to Wait" is Cole's most enduring song. The song peaked just outside the top 10 at No. 11, but did achieve No. 1 on the Adult Alternative chart and hit No. 3 on Adult Contemporary. It was used as the theme song for Dawson's Creek — a show that premiered only a month before the ceremony — and burrowed its ways into brains across the country. None of her singles would ever chart again, but she still releases music to this day. (Fun fact: Cole sang the anthem the night the Celtics would go on to raise their 17th championship banner in 2008.)
The main issue here is that she took the crown over some heavyweights. Puff Daddy, Fiona Apple and Erykah Badu all fell to Cole. She even triumphed over another artist known really for one earworm as Hanson was also shunned. On the outside looking in, Daft Punk released their debut album, Homework, but didn't make the ballot. My pick probably would have been Fiona Apple, as Tidal went triple-platinum and is considered one of the best albums of the decade. Puff Daddy, with his septuple-platinum No Way Out, also would have been a fair choice, along with Badu. Really anyone but Hanson.
6.) 2004 – Evanescence
The field for Best New Artist in 2004 is one of the worst we've ever seen, and that's not just with the benefit of hindsight. None of the candidates are particularly inspiring, but I would probably opt for Fountains of Wayne, even though their debut album was released in 1996. Welcome Interstate Managers is a legitimately solid record, and better than anything the other nominees released. On the other hand, those arguing rock is at its nadir now should take a listen to Evanescence. It was an indictment on rock that year that Fallen was nominated for Album of the Year, and the insufferable "Bring Me to Life" won Best Hard Rock Performance. The latter saw Evanescence defeat the likes of Audiosoave and Queens of the Stone Age. Thankfully, OutKast's Speakerboxxx/The Love Below saved us from a timeline where Evanescence has an Album of the Year trophy.
As for other potential nominees, Yeah Yeah Yeahs released their debut in 2003. Kelly Clarkson's debut came out that year, so she should have found herself on the ballot. Oh, and Beyonce would have been eligible if it weren't for a rule that prohibited artists from qualifying if they had been nominated previously as part of a group. Fall Out Boy, which was later nominated for the award, also could have jumped on the bill.
One way or another, Evanescence never should have been the answer.
5.) 2001 – Shelby Lynne
Remember how I said 2004 probably sported the weakest field in the history of the Best New Artist award? Well, 2001 might earn that distinction.
I almost couldn't believe it when Gibbs mentioned it, so I had to see for myself. It was true, though: Shelby Lynne earned the honor after six albums. Her first record was released in 1989! Technically, she put out seven albums before receiving the award, but her latest, Love, Shelby, came out right around the time of nominations. Her victory was perplexing since she hadn't charted in any way since peaking at No. 59 with "Slow Me Down" on the U.S Country chart in 1995, six years before her win. She also won the Academy of Country Music Awards New Female Vocalist of the Year…in 1990.
Let's not act like Lynne ran the gauntlet, though. Papa Roach, Jill Scott and Sisqo didn't exactly compose a formidable field, but Brad Paisley was probably most deserving — even before going on to become the most successful of any of them.
There had been a slew of other artists that probably should have found their way on the list, though. Coldplay, Craig David, Nelly and Pink all debuted that year, and none of them were competing against the likes of "Last Resort" or "The Thong Song." Coldplay's debut would eventually win Best Alternative Album the following year. All five of those artists would most likely have comprised a stronger crew, and maybe Paisley could have hung around to battle against them.
4.) 1979 – A Taste of Honey
"Boogie Oogie Oogie" is a jam, and America agreed. It topped the Hot 100 and both the R&B and Dance charts, as well as entering the top three in Canada and the United Kingdom. A Taste of Honey's self-titled debut also peaked at No. 6 on the Billboard 200 and hit No. 2 on the R&B charts. It's worth noting the group's follow-up single, "Distant," didn't chart anywhere. The only other release off of the self-titled record, "Disco Dancin," didn't crack the Hot 100 and reached just No. 69 on the R&B charts.
There were simply just more deserving competitors, and that's after removing the 20/20 lens of hindsight. The Cars also made the bill after the release of their debut, which went sextuple-platinum and featured two top-40 hits with "Just What I Needed" and "My Best Friend's Girl." "Good Times Roll" peaked just outside the top 40 at No. 41, but the album was a smash. Elvis Costello was also nominated following the drop of his second album, This Year's Model, which Rolling Stone considers one of the 100 greatest albums ever made and topped the Village Voice's Pazz & Jop poll for the year. I even have a soft spot for Toto's double-platinum self-titled debut, which features one of their best songs, "Hold the Line" and achieved top 10 status on the Billboard 200.
My pick would have gone to The Cars, but A Taste of Honey was a miss, even at the time. It capped that three-year stretch at the end of the 1970s where the award made viewers think twice. Speaking of that stretch…
3.) 1977 – Starland Vocal Band
Here we are, back to where it all started. Starland Vocal Band is the textbook definition of a one-hit wonder. Their deathless hit, "Afternoon Delight," earned two weeks at the top of the Hot 100, and has been featured ad nauseam in numerous movies and TV shows. If you haven't heard it once in your life, congratulations. You should get to teach courses about elusiveness because you've avoided this song for 44 years. It was somehow named the 20th sexiest song of all time by Billboard in 2010, a matter that I think needs government intervention to figure out what happened in creating those rankings.
The band never reached those heights again, failing to ever even come close. Their follow-up single didn't come close to cracking the top 40, and no album after their debut broke the top 100 on the album chart. The band broke up in 1981, just four years after taking home Best New Artist. Band member Taffy Danoff famously told VH1 in 2002 that the award was "basically the kiss of death" and that she felt sorry for groups who have earned the honor since. Ouch.
The rest of the field wasn't overwhelmingly strong, save for one competitor. The Brothers Johnson came equipped with their No. 1 R&B hit "Strawberry Letter 23," while Wild Cherry powered its way on to the bill with "Play That Funky Music." It was a big year for one-hit wonders, as the latter group never entered the Top 40 again and broke up two years later. Speaking of which, nominee Dr. Buzzard's Original Savannah Band — which only hit the Top 40 once with "Cherchez La Femme" — would also break up two years later.
So, voters had their work cut out for them making this selection, but one band clearly rose above the fray and should retroactively receive the award and a full apology. Boston's self-titled debut is effectively a greatest hits album, and this was obvious at the time. Three songs — "More Than A Feeling" (5), "Long Time" (22) and "Peace of Mind" (38) — were top 40 hits and deep cuts like "Rock & Roll Band" and "Smokin'" are standards. It's now certified 17-times platinum. It's difficult to foresee an album approaching double-diamond status, but Boston's debut was a relative hit machine.
2.) 1990 – Milli Vanilli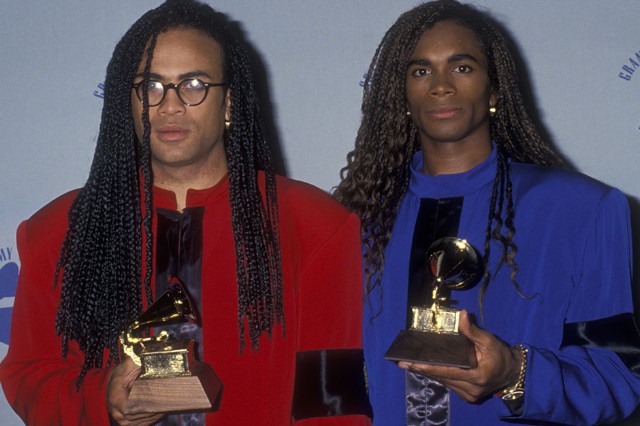 It's very easy to pick on Milli Vanilli for winning* this award. Fabrice Morvan and Rob Pilatus were named Best New Artist on Feb. 21, 1990, and they wouldn't even make it out of the year with their award. The Grammy was revoked after it was revealed the duo didn't actually sing on their debut album, Girl You Know It's True. A report in the Los Angeles Times from November 1990 notes that the recording academy didn't know whether the award would be given to another artist — other nominees included Neneh Cherry, Indigo Girls, Tone Loc and Soul II Soul — or left blank.
To this day, the Grammy is just listed as rescinded. Chuck Philips wrote in his LA Times piece that Morvan and Pilatus requested the award be given to the actual vocalists, three men named Johnny Davis, Charles Shaw and Brad Howell. I don't want to pile on the German-born duo, because they realized what they were doing was wrong and they became part of the machinery.
That being said, though, perhaps Milli Vanilli shouldn't have won the award at all. At the time, Tone Loc's Loc-ed After Dark topped the Billboard 200 and "Wild Thing," if numbers were reported accurately, should have been the first rap song to reach No. 1 on the Hot 100.
Cherry's debut album, Raw Like Sushi, was buoyed by the No. 3 jam, "Buffalo Stance," and would have made her a solid pick. The Indigo Girls' self-titled major-label debut was certified gold months before the ceremony and would eventually earn double-platinum status. Soul II Soul's Club Classics Vol. One received strong reviews, too, and is considered one of the better British albums of the decade. "Keep on Movin'" and "Back to Life" each reached the top of the R&B chart, with the latter reaching No. 10 on the Hot 100.
I would say you couldn't go wrong with any of the other nominees, even if my personal pick at the time would have been Tone Loc. Sometimes it's just bad luck. The recording academy had a slew of solid artists among them, and the one that was chosen would leave a stain on the award not long after.
1.) 2014 – Macklemore & Ryan Lewis

Welcome to the 2003 NBA Draft. For those unfamiliar, that year's crop of talent was loaded at the top. Four players who were picked in the top five are destined for the Hall of Fame, including LeBron James (1), Carmelo Anthony (3), Chris Bosh (4) and Dwyane Wade (5). Any of them would have been a great pick for a franchise looking to hit the reset button, but one team didn't exactly hit on their selection. The Detroit Pistons (editor's note: as a Piston fan, I am wholeheartedly triggered still even though they secured the 2004 championship) earned the No. 2 pick, with Anthony, Bosh and Wade still before them. They instead chose Serbian center Darko Miličić, a pick that will live in infamy.
Speaking of picks that will live in infamy, let's fast forward 11 years to 2014. Most people realized Macklemore and Ryan Lewis's victory was a mistake at the time. Full disclosure, I enjoyed The Heist, but consider the other artists up for the award that evening. James Blake is probably the weakest member of the field, and that says quite a bit. Ed Sheeran and Kacey Musgraves also got nominations, bursting on to the pop and country scenes, respectively.
At least none of the other choices were apart of the same genre as Macklemore & Ryan Lewis…right? The academy could have had an immediate game-changer, like a Wade or an Anthony, if they just voted Kendrick Lamar. That's what was most frustrating: a rapper who clearly created better music, even if he didn't have Macklemore's chart success, getting shunned.
It's become par for the course for Lamar, who apparently must have offended the academy earlier in life. He's won 13 of them, but it feels like fewer. He's been nominated for Album of the Year four times, but he's never taken home the gramophone. He was up for seven Grammys in 2014 and won zero of them, including this one. He lost several of them to Macklemore and Ryan Lewis, who won four of the seven awards for which they were nominated.
It's a shame. The academy had several different current and future sensations in front of them, and it looks worse by the day. They could have had a Melo, or a D-Wade, or even a Bosh, but instead selected a Darko. Maybe it's unfair, though, because Lamar's more like LeBron, and in that case, they deserved to miss out on his talent for such a pick.
HONORABLE MENTIONS
1966 – Tom Jones (The Byrds, Herman's Hermits, Horst Jankowski, Marilyn Maye, Sonny & Cher, Glenn Yarbrough)
1970 – Crosby, Stills & Nash (Chicago, Led Zeppelin, Oliver, The Neon Philharmonic)
2013 – Fun (Alabama Shakes, Hunter Hayes, The Lumineers, Frank Ocean)
2018 – Alessia Cara (Khalid, Lil Uzi Vert, Julia Michaels, SZA)