The end of the decade has passed us and it brought some of the best and most distinct music I've ever heard. My music taste wasn't exactly developed heading into the 2010s. I was furiously anti-pop, at one point even declaring I wasn't going to listen to anything that came out past 2005. I'm not sure what provoked that, honestly, but I'm glad I grew out of that phase. This decade featured several important life moments for me, including the birth of two of my nieces, graduating college and moving in with my girlfriend, among others. Music was important to all of them. Through the highs and lows, I've always had a song to spin — Childish Gambino practically soundtracked my freshman and sophomore years.
I began reading some decade-end album lists and agreed with most of them, but naturally, I wanted to throw my hat in the ring. I discovered some of these albums much later than I should have, while others I can remember where I was when they dropped. I dove into all of the decade-end collections I could find, and had about 40 albums to go through before whittling it down to these 10. This was an incredibly difficult process, and I even broke the only rule I had established. You'll probably disagree with this list, but I hope you comment down below with your own and reach out to me on Twitter (@jacob_marrocco) to let me know what you think. OK, now let's plug in and press play.
10.) Childish Gambino – Because the Internet (2013)
I've always had a softer spot for Camp, but Because the Internet introduced Childish Gambino to a more mainstream audience. It didn't spawn any hits — "3005" was its highest-charting song on the Hot 100 at No. 64 — but it did reach No. 7 on the Billboard 200 and topped the rap albums chart. While Camp could have been confused for one of his mixtapes— Because The Internet registers as a more layered, structured record, while Camp seems like just a collection of songs with no distinct through-line. BTI saw Gambino get a bit more experimental and rely less on his trademark lewd lyrics and brash approach. He even wrote a 75-page screenplay and a movie, Clapping for the Wrong Reasons, to go along with it. The interludes are a bit choppy, but the songs they're built around are largely impressive. "Telegraph Ave." is my favorite song on the album, sporting a mellower Gambino commanding his flow better than ever. As much as I love Camp, I recognize that BTI is the better record from top to bottom…and before you ask, I'm still processing Awaken, My Love!
9.) Kacey Musgraves – Golden Hour (2018)
February 2018's Album of the Year race featured more contestants than ever when the field expanded to eight — largely stocked with rap and R&B artists. TED's Black Panther (soundtrack), Post Malone's Beerbongs & Bentleys, Drake's Scorpion, along with Janelle Monáe's Dirty Computer and H.E.R.'s self-titled album all vied for the honor, but none of them took home gold. Kacey Musgraves created a GIF to last a lifetime when her third studio album — not counting her Christmas record — was crowned Album of the Year at the Grammys. She was surprised, and despite Golden Hour's critical acclaim, so were plenty of people.
Enough about that night, though. The album is exceptional, as Musgraves created a masterpiece that sat at the intersection of country and pop better than any other album this decade. I know what you're thinking, but I said what I said. The disco-tinged "High Horse," which remarkably was not a hit, is the best-known song off the album, but "Slow Burn," "Velvet Elvis" and "Space Cowboy" rely heavily on Musgraves' ethereal vocals and country sensibilities. It's a country album in pop clothing, but it was well-received in both genres. Pitchfork declared it one of the best of the decade, while Paste deemed it the 2010s best country record. All hail the queen of country-pop.
8.) Chance the Rapper – Acid Rap (2013)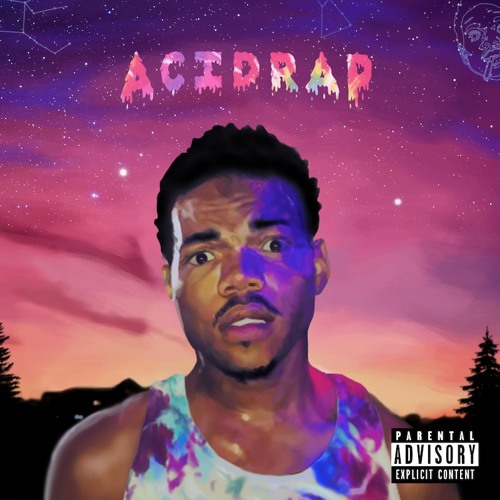 June was a great time for Chance the Rapper fans. Both Acid Rap and 10 Day dropped on streaming platforms, meaning they no longer had to go to DatPiff — the longtime mixtape hosting platform — to obtain them. I, for one, raced to Spotify and hammered the download button.
While 10 Day is a strong record, Acid Rap is Chance's seminal work and he may never top it. I was more generous to his latest release, The Big Day, than others, but even I'll recognize it doesn't sniff Acid Rap. It's made several decade-end lists, and its re-release shot it to a No. 5 peak on the Billboard 200. Chance told Hip-Hop DX in 2013 that he was "way more involved in the production side of things and making it sound the way I wanted to sound" with Acid Rap as opposed to 10 Day. "Good Ass Intro," featuring BJ the Chicago Kid and sporting the most writing and producing credits on the mixtape. Hell, the song kicks off with Chance raising expectations from the jump: "Even better than I was the last time, baby."
If "Good Ass Intro" is the thesis, he makes one strong supporting argument throughout the body of the record. Former tourmate Childish Gambino hops on "Favorite Song," while Chance wrangles artists like Action Bronson, Vic Mensa, Twista and Ab-Soul to round out the crew. He even shines without the help on "Acid Rain" and "Chain Smoker."
Chance may never capture the magic displayed on Acid Rap again — I'm holding out hope — but no one can take away the fact that it's one of the best rap albums of the decade.
7.) Taylor Swift – 1989 (2014)
If Red was Taylor Swift's first real foray into full-on pop, 1989 was the perfection of that sound. Not only was the album a commercial smash — knocking on the door of diamond certification — but she edged out Kendrick Lamar's To Pimp A Butterfly (see No. 6) for Album of the Year at the Grammys. The AV Club ranked it as the fourth-best album of the decade, to boot, and they weren't the only ones.
Allow me to share one example of why 1989 is such a strong record — other than the fact it's only one of a few dozen albums to spawn at least five top-10 hits. For my podcast, Crossing State Lines, I invited Ticket News deputy editor Olivia Perreault and The Young Folks music editor Ryan Gibbs on the show to count down our top 10 songs of the decade. We each ranked our top 20, using the year-end Hot 100s to construct our lists. About 1,000 songs were in play, yet 1989 was the only album that produced a tune for all three of our lists.
Olivia chose "Shake It Off," the lead single that proved to be utterly inescapable. Ryan chose "Style," a beautiful song inspired by One Direction's Harry Styles. My pick was "Blank Space," the irresistible second single with a hypnotic groove. No matter what way you slice it, Swift's fifth studio album has something for everyone — especially fans of '80s music.
Fans will debate what Swift's best album is for the rest of time, and almost all of them, save Reputation, have an argument. For me, the answer is clear.
6.) Kendrick Lamar – To Pimp A Butterfly (2015)
Speaking of that album Taylor Swift beat out for Album of the Year, it's a shame that Kendrick Lamar ran into the 1989 buzzsaw. The rest of the field that year was relatively weak, and he would have walked to his first — and shockingly only — AOTY win. He ironically helped push Swift's "Bad Blood" to No. 1 with a remix, placing her smack in the middle of Imagine Dragons' "Radioactive" and Maroon 5's "Don't Wanna Know" in terms of pop songs Lamar has enhanced.
Lamar has arguably had the most consistent run of albums this decade, starting with his O(verly) D(edicated) mixtape in September 2010. He followed that with Section.80 in 2011, then good kid, m.A.A.d city in 2012 (see No. 4). The latter peaked at No. 2 on the Billboard 200, but Lamar would hit the top spot with To Pimp A Butterfly. (Lamar's 2016 release Untitled, Unmastered doesn't count because it's listed as a compilation, though it was also a well-received project.)
I've read quite a few decade-end lists, and if you averaged them all out, To Pimp A Butterfly probably tops it. Pitchfork deemed it No. 4 — proclaiming "Alright" the song of the decade — while Stereogum put it at the top of their list and AV Club ranked it No. 3. Rolling Stone's Greg Tate wrote in his review that TPAB, along with D'Angelo's Black Messiah, made 2015 "the year radical Black politics and for-real Black music resurged in tandem to converge on the nation's pop mainstream."
Lamar would round out the decade with DAMN. in 2017, an album that won a Pulitzer Prize, and the Black Panther (soundtrack) — both of which were nominated for the top honor at the Grammys, but lost again. Black Panther was amid a crowded field, but check out DAMN.'s year and it'll give you a great reason to feel very angry.
While it's fun to single out "i," "King Kunta" or "Alright" for singular listening, TPAB is an album best enjoyed as an experience. From beginning to end, it should that no one should sit on Lamar's throne again. He's the king of the game now.
5.) The 1975 – A Brief Inquiry Into Online Relationships (2018)
This was one of the hardest decisions I had to make because any of The 1975's three albums could have made this list. The self-titled debut is very solid, but far from the band at its best. I like it when you sleep… was a formidable follow-up. It spawned one of my all-time favorite songs from the British quartet, "She's American," and one of their most critically well-received tunes, "Somebody Else."
Then, The 1975 kicked off its Music for Cars era with A Brief Inquiry into Online Relationships, and cemented its status as the group best fit to capture Millennial anxieties. I mean, the lead single is called "Give Yourself a Try."
The 1975 are apparently a pretty polarizing crew, and I don't understand why. Sure, Matty Healy's lyrics rival Morrissey's in pretentiousness and he can be a bit much on stage, but the production quality and musicianship are undeniable. "It's Not Living (If It's Not With You)," a now-sober Healy's self-described "big heroin" song, featured a Talking Heads-inspired long-form video and traditionally infectious, huge guitar and synth hooks. "Love It If We Made It," which ponders a murky future, features Healy at his most yearning and hopeless, echoing the daily mood of Millennials. Even the slower songs, like "Sincerity is Scary," have at least a danceable foundation. "I Couldn't Be More in Love," Healy's ode to his fans, takes on a new meaning once you read the backstory — he recorded the vocals the day he checked into rehab and hit the guitar solo himself in one take.
The Young Folks music editor Ryan Gibbs and I have agreed that The 1975 have managed to rescue the subgenre known as "sophisti-pop" from the dead. A Brief Inquiry is a triumph in a couple of ways for one of pop's most promising groups — Healy is clean, and The 1975 have continued to improve with every album. Expectations are sky-high for Notes on a Conditional Form, so I'm hoping I'll be writing about that one in a decade.
4.) Kendrick Lamar –good kid, m.A.A.d city (2012)
I tried to establish one rule for this list: No artist can have more than one album appear in the top 10, with the exception of honorable mentions. However, as the final cuts were being made, I realized that there was no way I could stick to that guideline when looking through Kendrick Lamar's catalog. As I mention in the To Pimp A Butterfly entry, I would argue Lamar has had the best run of albums in the decade. Lamar has had three consecutive No. 1 albums, three Platinum sellers and a Pulitzer Prize for DAMN., and this album could have made it four straight No. 1 albums but it only peaked at No. 2. His quality hasn't dipped, as you could say about recently-awarded Artist of the Decade Taylor Swift. Lamar never had a Reputation in the 2010s, well, unless you count the one for making incredible music.
GKMC edges out TPAB simply because it's my preferred Kendrick album, and the first one that really introduced me to his style. Lamar used his storytelling prowess to vacillate between deep jams like "Swimming Pools (Drank)" and epics like the 12-minute "Sing About Me, I'm Dying of Thirst." For my money, "M.A.A.D. City" features once of the best beat drops of the decade, and he deserves another Pulitzer for forcing me to enjoy Drake in any capacity on "Poetic Justice," too.
The album was so revered that it was even studied in some high school courses alongside the likes of Boyz N The Hood and James Joyce. I think that's what separates Lamar from most of the rappers in the game today. Other artists' work can just be appreciated for what it is, but Lamar makes works of art. They need to be studied, analyzed for their complexity and themes. There was no way I could only make room for one of his albums on this list. He was always going to be the artist that forced me to break my rule, but I can't say I'm upset.
3.) Frank Ocean – Blonde (2016)
Frank Ocean was the only other artist who came especially close to placing multiple albums on this list. In a recent podcast on Crossing State Lines, I likened Ocean to Adele. Of course, the latter is in a different stratosphere commercially, but the two release music so infrequently that the impact is seismic when they do. Blonde — released 48 hours after a visual album, Endless — was no exception, sending shockwaves through the music world when it dropped. It was Ocean's return after four years and was it ever worth the wait. While channel ORANGE and nostalgia, ULTRA are nothing short of spectacular, his 2016 release is a masterpiece — a word I don't like tossing around.
I'm not alone in that thinking, either. At least five different publications placed it top 10 for the decade, including a No. 1 spot from Pitchfork and No. 3 for Noisey. I'll need to have a talk with Billboard after it was placed 28th on its list. Pitchfork's Ryan Dombol wrote in his review that, "The power of Frank's work often comes via extreme transparency, but he's not writing diaries. It's about how he's able to locate the crux of any situation, or expose undue artifice, or peel things back to their naked core."
He sure peels things back on Blonde, an intimate album that explores Ocean's past relationships. While I love the mournful "Godspeed" and the rich "Nights," the highlight of the album is "Solo." The minimalist ballad features little more than Ocean's voice and an organ, at points sounding like a religious experience in the Church of Frank. It seems like it may build to something else, but it never does and it doesn't have to.
It's been more than three years, but it seems like a new Frank album is on the horizon after the release of a few new singles. It's been a grueling few years waiting around, though. We've had only little tastes to hold us over in between — like the unexpected feature on Calvin Harris' "Slide" — but I think we're all ready for another main course.
2.) Carly Rae Jepsen – Emotion (2015)
There are plenty of questions from this decade that will continue to confound me into the next. What if Malcolm Butler played in Super Bowl LII? What if Gordon Hayward never got hurt? Granted, most of the questions are sports-related, but at least one musical mystery will plague me for years to come: How has Carly Rae Jepsen been largely shut out from the Hot 100? Her last appearance on the chart was May 2, 2015, when "I Really Like You" peaked at No. 39, barely qualifying as a hit. Since then, she's been a ghost, despite that song coming off the best pop album of the decade.
Perhaps the simplest answer to why Jepsen hasn't had hits a-la "Call Me Maybe" — the No. 1, award-winning smash that dominated the summer of 2012 — is she didn't want to. She told NPR in October 2018 that she was "very grateful for that experience, but I was really excited to kind of just make someone music and show some other colors of what I like to do as a writer."
If her plan was to show some other colors, the finished product was a full-on spectrum. Emotion is a 45-minute dance party with hook after hook, proving that Jepsen is as talented a songwriter as anyone in pop. The lead single, "I Really Like You," is decidedly the weakest song on the record, but even the worst episode of Breaking Bad is a good hour of television. It served as a proper bridge from Kiss to E•MO•TION and succeeded in returning Jepsen to the Top 40, but it lacks the power of her greatest composition.
Emotion begins with a haymaker in "Run Away With Me," which I would contend is at least one of the 10 best songs of the decade. Brennan Carley of SPIN tragically referred to the tune as "an undeniable hit waiting in the wings for its moment," one that would never come. It has all the elements of a chart-topper: The soaring saxophone to kick things off, a theme to which everyone can relate — just wanting to drop everything and run away with the one you love — and an unshakable chorus that will lodge itself in your head.
There's a bit of everything on E•MO•TION, and at points, Jepsen is showing off. The title track, which follows "Run Away With Me," takes a more danceable, synth-pop route, similar to "Making the Most of the Night." She goes pure sugar-rush on "Boy Problems," while toning it down and going full sophisti-pop on the album's longest song, "All That." Even the B-sides are tremendous, but those don't count toward this ranking, and I can't imagine it going much higher than No. 2 anyway.
One of my favorite writers and comedians, Josh Gondelman, tweeted this year shortly after the release of Jepsen's follow-up, Dedicated, that one of the traits he appreciates most about her music is that some of her songs are "cheerfully horny, the way people in old musicals are horny. You don't hear that enough anymore." As usual, Gondelman is correct. Jepsen is one of a kind, and you don't hear pop perfection like her very often.
1.) Kanye West – My Beautiful Dark Twisted Fantasy (2010)
I miss the old Kanye. While the production value of Jesus is King was still present, everything else was average or worse — see "Closed on Sunday." Maybe he should go into exile in Hawaii again.
That's famously how My Beautiful Dark Twisted Fantasy, the best album of the decade, was assembled. The previous year was not the greatest one for Kanye West, but it was his own doing. Everyone remembers the image of sunglasses-clad Kanye storming the stage, ripping the mic out of Taylor Swift's hands and heaping praise on Beyoncé. It was an embarrassment for all parties involved, and then he canceled his 808s & Heartbreak tour to pour salt on his self-inflicted wounds.
Then, from the ashes, a phoenix rose. I don't need to tell you that MBDTF is perfect from top to bottom — I'll just let one of the most notoriously critical music publications do the work. Pitchfork has only handed out a handful of perfect 10s, and MBDTF is the most recent one. Given how much music they review, it's about as likely for you or me to hit a hole-in-one on a par 4. Ryan Dombol wrote in his assessment that MBDTF is "a blast of surreal pop excess that few artists are capable of creating, or even willing to attempt."
The acclaim doesn't stop there, because if you look over a collection of decade-end lists you'll see quite a few single digits next to the record. It was slotted No. 1 for the AV Club, Complex and Billboard, and top 10 on a handful of others.
"All of the Lights" was the only actual hit off the album — peaking at No. 18 on the Hot 100 — but it comes in the middle of a slew of several other memorable compositions. Before it comes "Gorgeous," featuring a fascinating back-and-forth between Kanye and Raekwon, to go with Kid Cudi's mesmerizing hook and a shredding guitar riff. Then comes the foot-stomping "Power," and the star-making "Monster" — where a blistering 32 bars brought mixtape Nicki Minaj to the world.
"Runaway" is considered the highlight for most, a 10-minute epic with Pusha T that was a literal toast to douchebags and assholes like Kanye himself. He knew what he was, and he didn't care. He was going to make music his way, and, even to a fault, he still does that. I'm not sure what the future holds for Kanye, but the quality of his music has dipped consistently.
Yeezus was pretty strong, and The Life of Pablo was good. Kids See Ghosts is fine, and I'm not a fan of ye. Jesus is King caps a decade that saw Kanye start out on top. He created his magnum opus, a dragon that couldn't be slain by any pop princess or rap megastar.
It's Kanye's beautiful, dark, twisted fantasy, and we're just living in it.
Honorable Mentions:
Frank Ocean – Channel Orange; Beyoncé – Lemonade; Rihanna – ANTI; Kendrick Lamar – DAMN.; Florence and the Machine – Ceremonials; Drake – Take Care; Beyoncé – Beyoncé; Adele – 21; The 1975 – I love it when you sleep for you are so beautiful yet so unaware; Hamilton Original Broadway Cast Album; Taylor Swift – Red; Sky Ferreira – Night Time, My Time; Stormzy – Gang Signs & Prayer