Extremely late on this one and there are no excuses for it. Better late than never right? We hope you can forgive us and get right to the tunes. We apologize in advance if some of the listings are short (most will be), we really wanted to get this out to you all.
Per usual, we're sorry if we missed you, but help us find you! Remember that if you have any new content for April to submit shoot a message to our contact page or send an email to us. Not much time left, we're almost halfway into the month.
Legend: 💿Album/EP/Mixtape | 📰News | 🎵Single | 🎥Video
---
DJ/Producers | Hip-hop | Indie/Rock/Alternative | Latin/World | R&B | World
---
DJ/Producers
araabMUZIK — The Last Instrumental 💿 | (Providence)
March brings us the newest from Providence's araabMUZIK. Though he doesn't live in Rhode Island anymore, it's never a bad time to support. Check out the six-track album below.
Wattz — "Loophole (Wattz Remix)" 🎵 | (Providence)
March brings a new track from щ∆╫≥. Check out "Loophole" below.

Al Tree — "East Coast Livin'" 🎥 | (New Bedford, Massachusetts)
Shot and edited by 2400Kelvins, Al Tree drops the visuals for his track "East Coast Livin'."
Ceez x Pyrex Lex — Iceberg 💿 | (Rhode Island)
Ceez and Pyrex Lex link up and drop their collaborative project Iceberg. The album was executively produced by ClarkWork with additional production from Danny Keyz.
Dee Gomes — "Change Up" 🎥 | (Providence)
New this month we have the official video for Dee Gomes' "Change Up." The track is definitely in my top three of songs from True Colors.
J Cinatra — The Show 💿 | (Hyde Park, Massachusetts)
The Hyde Park artist drops his latest album, The Show.
J Duce — "Dopeman" 🎥 | (Rhode Island)
J Duce brings to life his "Dopeman" track with CBNOne-directed visuals.
Jae Reason — Midnight Machine 💿 | (Providence)
Jae Reason, who we previously featured on Local Crafts, just dropped his 10-track Midnight Machine. The release consists of seven songs and three bonus tracks.
Jefe REPLAY — "FWM" 🎥 | (Roxbury, Massachusetts)
Jefe REPLAY brings his track "FWM" to life with the M9 Visuals-directed video. Follow Jefe around the U.S. as he teleports from location to location, Henny and phone in hand, using his handheld button to do it.
King OSF — "Cus I'm Home" / "Down To Ride" (feat. Dstackz, Lex Flare) 🎥 | (Providence)
We get new visuals for King OSF's "Cus I'm Home" and "Down To Ride".
Luke Bar$ — "OK OK" (feat. Jiles) 🎵 | (Brockton, Massachusetts)
Coming off of the release of his 2 Sides EP with Jiles, Luke Bar$ drops Daymian Mejia-directed visuals for "OK OK".
Heather Rose in Clover — Canyons 💿 | (Providence)
The Providence-based band Heather Rose in Clover just dropped their debut project Canyons. Here's what they wrote about it:
"We are confronted with divisions daily. Conflicting opinions, beliefs, interpretations. Even this album was constructed piece by piece, out of order, straying from the usual band setup one would expect from a rock album. All these parts. All these years. All the emotions. Blended. Merged. The end result being one cohesive collection of songs we call Canyons."
Rosé Petal — "Out of Blue" 🎵 | (Smithfield, Rhode Island)
Rosé Petal dropped her newest, self-produced track "Out of Blue" this month. The track serves as her newest song since she released the video to "Why" back in October. Fun fact, this is the first time we feature a pop song on Local Crafts.
Yoni Gordon — "Song of the Summer" 🎥 | (Boston)
Breaking into the Local Crafts charts we have Yoni Gordon. Gordon, who currently resides in Boston, just dropped the lyric video for his song "Song of the Summer." The track brings some new sounds to Gordon as he wrote, they have "traded in all our guitars for synths, and my well worm pop/punk/indie rock sensibility for a new, hit you over the head, Top 40 kind of sound."
Check out the track and video below:
Nicky Jam — "Te Robaré" (feat. Ozuna) 🎥 | (Lawrence, Massachusetts)
This one is kind of cheating but it isn't. The Lawrence, Massachusetts-native Nicky Jam connects with Ozuna for the official video to his track "Te Robaré."
Cyerra ShaDai — "Feel It" 🎵 | (Boston)
Check out the new single by Cyerra ShaDai called "Feel It."
Jon Hope "Hip Hop: Deeper Than Rap Series"
In March, Jon Hope brought his series to the Queens Library. He, along with Brian "B Dot" Miller, of the Rap Radar, discussed Meek Mill's Championships using a couple of different themes. The conversation was moderated by Ralph McDaniels.
https://www.instagram.com/p/Buqrl3WA9jy/
https://www.instagram.com/p/BvCXnaZgwcU/
The Super Mega Ultra Giant Mad Decent Block Party Festival | (Foxborough, Massachusetts)
Diplo and his label Mad Decent announced their two-day "The Super Mega Ultra Giant Mad Decent Block Party Festival". The festival takes place July 20 and July 21 at Gillette Stadium in Foxborough, Massachusetts. The festival features Dorchester's Cousin Stizz.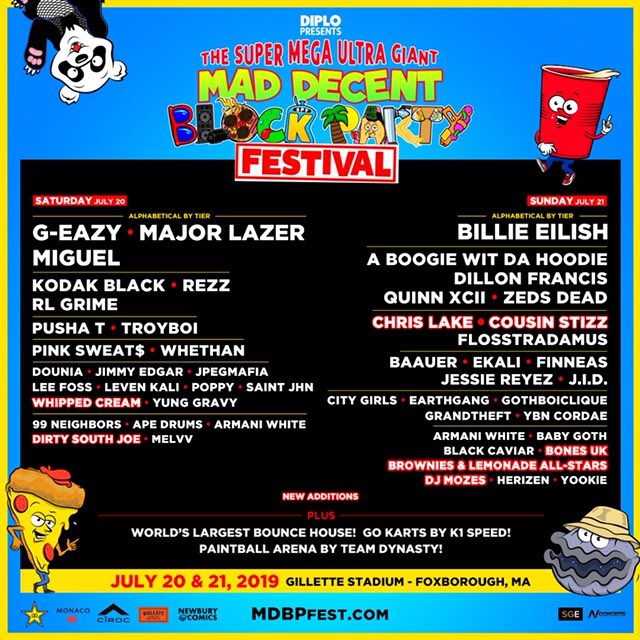 ---
That's it for March 2019.
Also, we're looking for writers, just shoot an email to us. Any genre let's do it.
Rest in Peace Nipsey Hussle. The Marathon Continues.
-45s and 40s