Disclaimer: This interview features some instances of strong language
From producing and creating his own music to finding ways to be creative through other forms of art, this Providence-based artist is only beginning his career.
From a young age, Lunchbagg discovered the name he wanted for himself.
"Lunch was always my nickname," he said. "Lunchbagg just kind of followed…[it] looked better on paper than just 'Lunch,' I thought."
Both a producer and a songwriter, Lunchbagg's career started at 15 when he began interning at a music studio. His interning role included writing soul music lyrics for singers and producing songs for them. After having worked with the soul artists for some time, Lunchbagg developed interest in creating music for his own use. He began his work with Garage Band before progressing to Reason and finally, what he uses now, Fruity Loops.
"My music [and] my style was a lot more clean then," Lunchbagg said. "I was still trying to find my voice [which] might sound weird for a production thing, but that's the truth."
Walking through Lunchbagg's house, creativity is prevalent in all corners. The living room seeped art as it was found all throughout the room. It was stored in bookcases and exhibited on a table, crates crammed with classic and modern records were placed in different parts of the room.
Self-taught
Another room in the house felt as though it was a haven for music studies. The floor on one side housed an acoustic guitar, placed neatly on a stand; the room was also home to a piano, music pedestal and other music-related items. Lunchbagg attributes a lot of what he has learned came to his own research and not a lot of formal training, if any. Online videos helped him learn a lot as did picking up pointers here and there from other musicians he was around.
"I skipped school every day for my whole last year of middle school and I just learned how to play the guitar," he said. "I would just sit at home and watch TV with the sound off and play. I would listen to Prince albums and try to learn the guitar solos. I learned 'Computer Blue' [from listening to the Prince albums]…that was the first solo I ever learned.
"I had a DVD player that played CDs…I played that song over and over and that solo part…[I would] try and do it on the guitar and rewind and try to do it again."
Lunchbagg uses what he has learned in order to create the music he puts out. His most recent release, The Holy & The Hostile radiates the spectrum of emotions and ideas he wanted to give off along with remaining conceptual.
ADD IN (13:51) TO IT.
The Holy & The Hostile
After having listened to The Holy & The Hostile, the growth between previous releases, such as TrippyAssVegas, and this release show his growth and search for sound. Throughout the album there's an omnipresent sense of a change and progression in Lunchbagg as an artist.
The album was executively produced by Lunchbagg with the exception of "NYE 2016," "Feel Like Ghost Rider," "Come Down (Interlude)" and "Far From Me" where he enlisted Skye Empire. On some of the album's songs he featured artists for vocals or instruments to supplement his songs.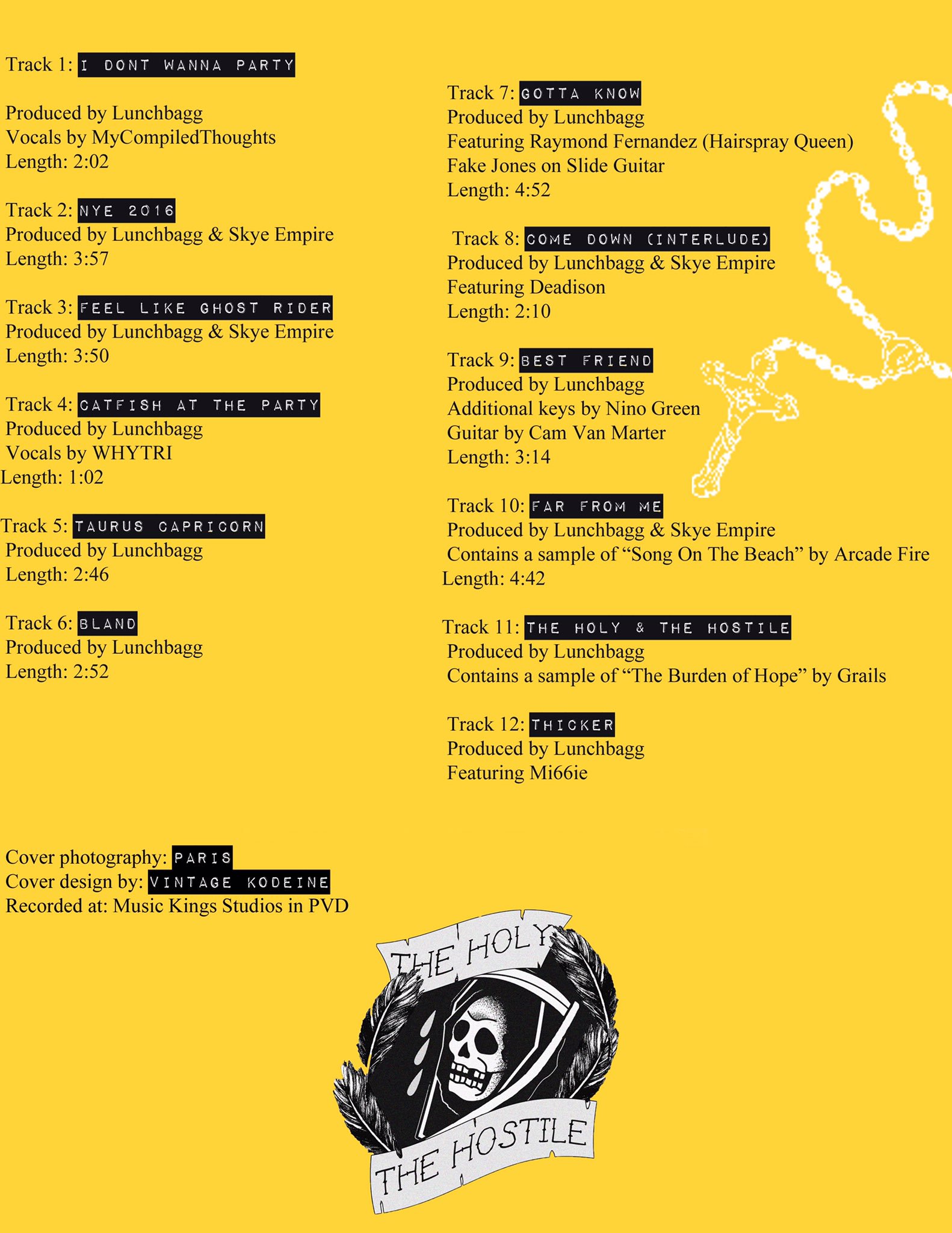 "Best Friend," the lead single on the album, was released and soon afterwards the music video for the song premiered. Unlike most music videos by American-based artists, "Best Friend" premiered internationally. Lunchbagg isn't quite sure exactly how the video premiering in Germany was planned other than it was by way of emailing.
"I got people around me that kind of facilitate that kind of thing," he said about the premiere's origins. "There [were] people after that video dropped that were hitting me up from other countries like 'Yo'…like in broken ass English like 'Yo, your music is the shit.' I'm like 'Yo, I just took the bus to go to work.' This is lit."
"People who [discover you] because they found out about your shit through some other service are like 'Yo, you're the shit.' And I'm like 'Yo, I'm not.'"
The song's backstory is a sad one. Its premise comes from the loss of one of Lunchbagg's friends.
The loss didn't stop him from creating music as he continued to write songs and make final cuts for the album. Lunchbagg said he spent all of 2016 recording music in preparation for the album.
"I recorded like 100-something songs," he said. "Every day [I was] in the studio writing and…I've got three or four projects worth of stuff that might see the day, might not. From those 12 songs I had to make a cut of 88. That shit was tough."
The album's artwork is representative of the project's feel. The dark, unorthodox album looms with its art. The artwork, he mentioned, was an accident. Lunchbagg's friend Paris was taking pictures with 35mm expired film and when they were developed, a couple of frames blended together to make what is now the cover art.
"I really wanted to make a cover that was representative of the album and the theme of the album," he said. "So when you see the crucifix over my hand with like the cigarette popping out of it, it's kind of like that whole….not to say that cigarettes are evil, I'm not that type of person. But it's like an idea of like one thing stands opposite the other."
Creativity
Lunchbagg's talents vary and though he also has the bass, piano and drums in his repertoire, it isn't an exhaustive list of the extent of his creativity. While working on
The Holy & The Hostile, he began experimenting with painting. He said he doesn't need to be creating music every day, but he needs to be creative on a daily basis. Admittedly, Lunchbagg said he was "kind of scared to" start painting. Though he said he lacks the ability to draw very well, he was able to express himself by way of painting abstract ideas and emotions. Painting allows him to take different ideas and approaches back to the recording studio and add perspective.
"I'm starting to find it now…my voice in painintg," he said. "I express myself through colors and the textures."
While art is what he has been using recently to be creative, he said that wasn't the only way he tried to maintain a high level of creativity.
"I did photography one summer," he said. "I didn't learn [how to take pictures] from anybody in particular. I just kind of sat with the camera for a little while."
"Painting was just another way for me to be creative."
A huge step for Lunchbagg came in early June 2017. He was provided with an opportunity to perform at PVD Fest–a three-day weekend event featuring food, music and different activities in Providence.
Performing
PVD Fest allowed Lunchbagg to perform in front of thousands of people almost simultaneously. He said whenever someone he knows was coordinating a local show, he more than likely knew most of the people, if not all of the people at the show. PVD Fest was big for him because it included an eclectic mix of people who would be walking around and potentially listening to his music. Though the stage was bigger this time around, he ensured it would be meaningful.
"I think one thing I've never had an issue with is making sure people understand what I'm saying when I'm on stage," Lunchbagg said. "So it'll have like a swag and an attitude but like you'll hear form the very back you'll hear the music and understand exactly what I'm saying and there's just like a production value to it that's next to none. It's so unique so everybody can hear it. I'm not like mumbling on the mic. It is what it is, some people just got it like that."
Fans can listen to The Holy & The Hostile on Soundcloud and Spotify. You can follow Lunchbagg on Soundcloud, Twitter, Instagram or Facebook.
He has also recently launched a new website and has merchandise available for purchase.